Testimonials
Here are just a few of the past comments from events that I have called at. All testimonials are unsolicited.
Carl Ingram, 40th Birthday, Postbridge, Recorded Music
Thanks so much for the hoedown on Saturday everyone's been saying they had a brilliant time.
Mark and Donna, Wedding, Chudleigh, Paddy's Whiskers Band
Thank you guys so much for such a brilliant night in Chudleigh, a lot of very tired legs on Sunday. You were amazing!
Alice and Simon Mahany, Wedding, Cullompton, Recorded Music
We just wanted to message you to say thank you for the great job you did ceilidh calling at our wedding. We thoroughly enjoyed the ceilidh, as did our guests. We hope that you enjoyed yourself too - You helped to make our wedding the unforgettable day it was.
Magalie Barrett, Birthday, Dunkeswell, East Devon, Back to Square One Band
I wanted to thank you again very much for the wonderful time we had dancing on Saturday! We really enjoyed your music and so did all our guests. I am hoping to do the same party for my 40th in 3 years time, and I would love you to come back to do the music! Again, thank you for the fabulous evening!
Richard Terry, Wedding, Yarcombe (Honiton), Paddy's Whiskers Band
Thank you for Saturday. You were great. We've had a lot of people asking about you.
Ellie Harflett & David McMillian, Wedding, Killerton (nr. Exeter), Back to Square One Band
Thank you for bringing together a wonderful evening. Mari's wedding was joyous and the rest of the dances were also great fun! A great time was had by all, especially us!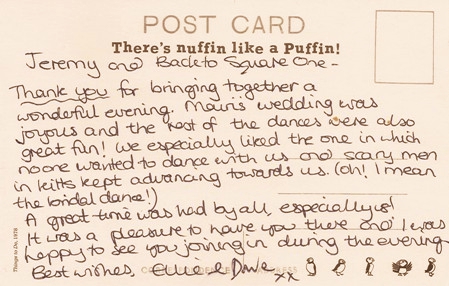 Jacky Hevingham, Barnstaple, Harvest Festival, Back to Square One Band
We thoroughly enjoyed the evening and everyone commented on how much they enjoyed your band and the dancing - it was perfect!
Judy Barnes, Okehampton, West Devon, Back to Square One Band
We couldn't have been happier with Back to Square One. We really appreciated the way you gently led us through the dance steps – everyone had a great time. It was the perfect end to a wonderful day.
Lynda Green (Brides Mother), Wedding, Rattery, South Devon, Back to Square One Band
Thank you for the wonderful contribution you all made to our special day. You helped to bring all ages together, turning strangers to friends and filling the hall with an atmosphere of friendly fun and laughter - even people who don't usually try had a go! Thanks again!
Alex and Rhian Hamilton, Wedding, Honiton, Back to Square One Band
The dance floor was packed! Jeremy is an enthusiastic and brilliant caller, giving clear guidance and was an excellent communicator during the planning stage via email. We will definitely recommend you!
Sarah Gabe, March 2012, Village Event, Barnstaple, North Devon, Back to Square One Band
I just would like to say huge thank you to you and the band for a brilliant night. We all really enjoyed ourselves! Thanks to your expertise the night was a great success.
Sarah W, Brownie Leader, Exeter, Recorded Music
We thought you were great! And the little people seemed to think so too!
Barry & Sue Wakefield, wedding, Littleham, Recorded Music
So many people said it was the best wedding do they'd ever been to. You really made our day - thank you
Lawson Jury, Church Social, Paignton, Recorded Music
What an excellent evening! I couldn't begin to count the number of complimentary comments about the good time people had.
Jan Mullin, Wedding, Mid Devon, Mackerel Sky band
Thank you to you and your band and to Jeremy who all made such a wonderful contribution to our celebration